Coverseam
2-needle, 3-thread flat bed double chainstitch machine for belt-loop seaming.
Flat-bed Coverseam machine
Flat-bed Coverseam machine with thread trimmer, foot lifter, needle positioning and thread wiper.
3-needle flat bed coverstitch (interlock) machine for binding, with built-in AC Servo motor and needles positioning
3-needle, 5-thread flat bed coverstitch machine (interlock) for elastic band attaching, with right hand fabric trimmer. For light and medium materials
Direct Drive Coverstitch machines with cylinder arm
Direct drive coverstitch machines with small cylinder arm.
3-needle flat bed coverstitch (interlock) machine with built-in AC Servo motor and needles positioning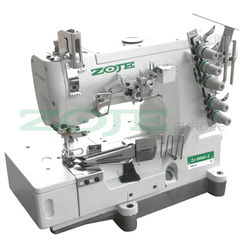 3-needle flat bed coverstitch (interlock) machine for binding with built-in AC Servo motor and needles positioning