Groz Beckert - 134-35LR Leather Point Industrial Sewing Machine Needle
Description
Please note: this needle is not the same as a 134(R) or 135x5(R), if you are looking for the 134(R) with a leather point click here
Groz Beckert industrial sewing machine needle - 134-35LR Leather point, available in sizes 120/19, 130/21 and 140/22, in 1 x packet of 10 needles or 10 x packets of 10 needles.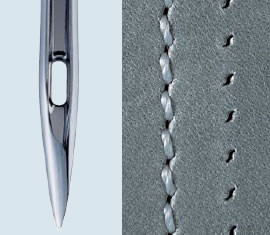 Groz Beckert LR Point for soft, medium and hard Leather
Cuts the leather to the right (see diagram) at a 45° angle in the direction of sewing. Slight to medium slanted stitch formation, depending on the leather. The sewn thread is slightly elevated. Stitch holes are easily visible. Suitable for short to medium stitch length.
Application Field:
For the production of decorative seams on soft, medium to hard leather. Can be used on almost every type of leather.
Example:
Shoes, bags, leather garments and suitcases.
Please choose your pack quantity and size above.
We cannot possibly list all the makes and models of sewing machines this needle will fit, if you do not have a pack with the details on, please email your sewing machine make and model and the size of needle you require to parts@hobkirk.co.uk and we will advise you of the correct needle system to use.
Reviews
There are no reviews yet.
Add review