Overlockers & Coverstitch Machines
An overlocker is a sewing machine that stitches with either 2, 3, 4 or 5 threads at the same time and are mainly used to join seams, trim off the excess fabric and stop the cut edges from fraying. The stitch pattern of an overlocker is designed so that it allows for an incredible amount of stretch which is very useful when sewing knitted fabrics. Overlockers are excellent for attaching elastic and are often used for clothing and depending on the make and model of the overlocker machines, it can give you the ability to achieve a variety of fancy edges or hems.
If you are local, why not call into our shop so you can see our full range of overlockers which we have on display. Our team of friendly, helpful staff will help you find the overlocker which is perfect for you and you can even try before you buy!
---
Does hemming skirts or sewing stretch fabrics seem difficult to you? Not with Elna 664, and what better ally than the Elna 664? Neatly cutting, hemming and sewing in no time at all - avoiding loose threads.
The Janome 9300DX Overlocker is one of the easiest overlockers with speeds up to 1300 stitches per minute.
The Brother 4234D overlock hems seams perfectly and creates amazing decorative effects.
Make your skirt hem or sew stretch fabrics seem you difficult? Not with the Elna 664PRO! Want an ally for your sewing machine? With the Elna 664PRO you can sew with 2, 3 or 4 threads.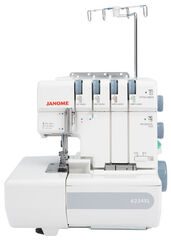 The 6234XL makes overlock sewing easy! Incorporating the differential feed system of two feed dogs, puckered edges on woven fabrics and stretched edges on knits are virtually eliminated.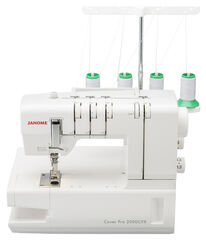 The 1000CPX has been upgraded to provide greater control over fine fabrics and thereby an even better stitch quality.
This new coverlock is the perfect companion machine to an elna serger and produces the cover hem and chain stitch.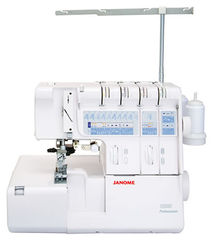 The newest addition to Janome's professional line of machines, the 1200D combines a full-featured overlock machine with a cover stitch machine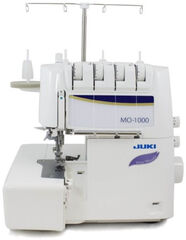 2-needle, 2/3/4-Thread Overlock with 'Easy Threader' and Differential Feed