Hoffman HF-200T & HF-400T Series Band Knife Cutting Machines
Description
Hoffman Band Knife Cutting Machine Series HF-200T and HF-400T
The series HF200T and HF400T band knife cutting machines are convenient to use, highly efficient for precise slicing of cloth patterns for all sorts of multi-layered fabrics, where the total maximum thickness amounts to 200mm (series HF-200T) and 400mm (series HF-400T).
The series of machines, HF-200T/500 is a monospeed drive of 14m­/s whereas models HF-200T/750, 1100, 1250 and HF-400T­/1100 machines consist of two-speed drive, working speeds of 8m/s and 16m/s, applied successfully for cutting most types of fabric. Smooth band speed adjustment may be regulated if needed, regulation scope from 4m/s to 20m/s which is crucial when cutting hard and coated materials and in case when fabrics that differ in composition and properties are cut using one device.
Due to the large amount of fabrics which can be cut using the band knife machines, Hoffman introduced machines with more powerful motors in order to maximise functionality and effectiveness of the devices. Various models are equipped with motors whose power ranges from 0.9kW, 1.1kW and 1.4kW, 1.8kW (two-speed drive machines) to 1.5kW, its ending capacity amounting to 2.2kW (machines with smooth band speed adjustment).
Safety
Along with functionality, Hoffman always ranks machine safety as the most important factor. That is why it is a standard to equip HF-200T and HF-400T band knife machines with a blockade that catches hold of the band in case of breaking, as well as modern micro circuit breakers that stop the machine in case of detecting and deficiencies in the closure of safety guards. It noticeably influences work comfort and the feeling of safety by the operator.
Air flow system (available on models with HF-xxxT(F)/xxx­/1)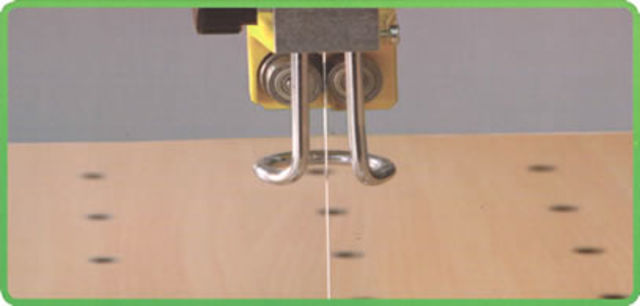 Air flow system which is used in various Hoffman machines makes cutting much easier because you can move material with less force. High and heavy layers of material can be moved without any resistance increasing the comfort of an operator. Special valves on the table-top cause the air to be exhausted only in the place on which the materials is placed. It makes also conservation easier, because air canals in the table are free of dust.
Operation Panel
Various models may come with either a standard control panel or touch screen LCD control panel, the LCD variant will be designated 'LCD' within the model number.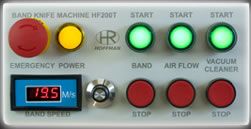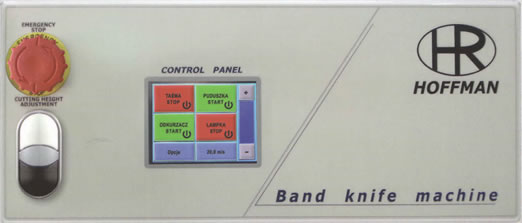 Optional equipment for series HF-200T and HF-400T machines:
Suction Cleaning System
Hoffman band knife machines can also be equipped with suction cleaning system which removes dust and fragments of material which is side-effect of cutting process. This system is recommended for cutting knitting fabric, silk and other dusty materials. You can not only prevent clogging of the equipment in the work area, but also avoid the breaks for the treatment of any dirt settling on the system, each HF-200T and HF-400T series comes standard with output and mounting system, allowing you to connect the device at any time.
The band siliconizing system
This system is particularly suitable in the case of cutting glued or high rubber content materials. Application of siliconizing system prevents sticking adhesive band, rubber and others pollutants generated during cutting which certainly extends the life of the blade. It is recommended directly to the sharpening cutters.
Models:
Standard Specifications:
HF-200T/500
HF-200T/750
HF-400T/750
HF-200T/1100
HF-400T/1100
HF-200T/1250
HF-400T/1250
Cutting Height mm
200
200/400
200/400
200/400
Boom Length mm
500
750
1100
1250
Band Length mm
2825
3795/3963
4435/4603
4720
Voltage V
230/400
400
400
400
Voltage (Speed Adjustment models)
-
230
230
230
Band Speed m/s
14
8/16
8/16
8/16
Band Speed m/s (Speed Adjustment models)
-
4-20
4-20
4-20
Table Size mm
1000x1200
1500x1800
1800x2000
1800x2000
Additional Functions
200 Series Models
400 Series Models
With Air Flow System (HF-xxxT/xxx/1)
HF-200T/500/1
HF-200T/750/1
HF-200T/1100/1
HF-200T/1250/1
HF-400T/500/1
HF-400T/750/1
HF-400T/1100/1
HF-400T/1250/1
With Smooth Speed Adjustment (HF-xxxTF/xxx)
HF-200TF/500
HF-200TF/750
HF-200TF/1100
HF-200TF/1250
HF-400TF/500
HF-400TF/750
HF-400TF/1100
HF-400TF/1250
With Air Flow System + Smooth Speed Adjustment (HF-xxxTF­/xxx/1)
HF-200TF/750/1
HF-200TF/1100/1
HF-200TF/1250/1
HF-400TF/750/1
HF-400TF/1100/1
HF-400TF/1250/1
With Air Flow System + Smooth Speed Adjustment + LCD Control Panel
(HF-xxxTF/­xxx/­1/­LCD)
HF-200TF/­750/­1/­LCD
HF-200TF/­1100/­1/­LCD
HF-200TF/­1250/­1/­LCD
HF-400TF/­750/­1/­LCD
HF-400TF/­1100/­1/­LCD
HF-400TF/­1250/­1/­LCD
Reviews
There are no reviews yet.
Add review