Industrial Sewing Machine Needles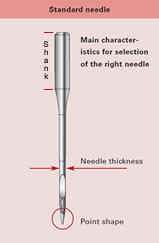 Which needle system is used is generally dictated by the make & model of sewing machine and the sewing job in question. Within this needle system, there are variants that a user can choose from to meet specific requirements.
This choice involves the following questions:
• Which needle thickness or size? 70/12(very fine fabrics) or 140/22(very heavy/­upholstery)
• Which point shape? Standard round point, ball point or leather points are examples.
Not all needles available are listed here, email the details from your old needle packet with your make and model of sewing machine to parts@hobkirk.co.uk and we will reply as soon as possible.
For Domestic/Home sewing machine needles - Click here
Failure to use the correct 'needle system' and 'size' will result in damage to the sewing machine; seek advice if you are unsure, Hobkirk Sewing Machines will not be liable if you purchase the wrong needles.
Industrial sewing machines are set-up by sewing machine mechanics to use one size of needle for a specific job, so changing to a smaller size without having your machine 'retimed' could result in skipping stitches, using a larger size your needle will hit the 'hook & base' damaging it, and causing the thread to break. If you find your machine is breaking needles often then your machine may need to be 'retimed' and/or a more suitable needle for the task at hand. Email parts@hobkirk.co.uk for more information on sewing machine needles or about having your sewing machine retimed/­repaired by one of our mechanics.