Meet the team
Peter Hobkirk
Chairman
Following in his father & grandfathers footsteps, Peter came into the family business in 1965. Although now semi-retired, Peter still maintains an active interest in the business.
---
Mark Hobkirk
Managing Director
Mark joined the family company in 1993. Initially specialising in the industrial side of the company, Mark became a director in 2005 and now oversees all areas of the company.
---
Kathy Hobkirk
Accounts Manager
Married to Mark Hobkirk, Kathy joined Hobkirks in 2007 in administration and accounts. Kathy now controls most financial issues within the company.
---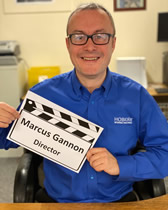 Marcus Gannon
Director
Marcus is responsible for the retail division of the company, overseeing the domestic sewing machine department, fabric store and service workshop.His management experience stems from 20 years in the travel & banking industries
---
Tatiana Greenwood
Retail Department
Expert sewer and dressmaker, Tatiana support our retail sewing department.
---
Stephanie Morris
Retail Department
With a degree in Textile Design, Steph uses her creative flair in Hobkirk's fabric department. She also assists customers with their purchases of sewing machines and associated products.
---
Wendy Whyment
Retail Department
Joining in 2009, Wendy's role began with running the company's Bury branch, before moving to the Blackburn branch. Her career to date has always been in sewing and her area of expertise is wedding dresses.
---
Elaine Taylor
Retail Department
Elaine has spent her entire working career in the domestic sewing machine industry running her own company Dalby & Jones (Sew Knit) in Preston. She now shares her expertise & knowledge with Hobkirks and their customers two days a week.
---
Stuart Wearden
Technical Support
Stuart also joined the company straight from school in 1989 as a trainee technician and is now responsible for the repair & service of domestic sewing machines. He is also responsible for the servicing of sewing machines in schools and colleges.
---
Anne Marie Read
Sewing Tutor
Anne Marie is an expert in the field of embroidery, craft & sewing. She joined Hobkirks in 2006 and organises workshops & sewing classes. In 2010, Anne Marie beacame a freelance tutor and now has a dedicated classroom and work very closely with us.
---
Steve Roughan
Technical Support
Having spent much of his working career wih Bentwood and Yamato, Steve supports the industrial service department.
---
Terry Dean
Technical Support
With a good general knowledge of most industrial machines, in particular electronics, Terry is a great addition to the technical team. He also specialises on Styrteknik machines.
---
Neil Smith
Parts Support
Gaining his knowledge and experience during his many years with Smith's Sewing Machine's, Neil brings his support to our expanding industrial department.
---
Gordon Guest
Industrial Parts & IT
Gordon joined Hobkirks in 1987 straight from school. He has a broad knowledge of the industry and specialises in industrial parts as well as controlling the computer system and web site.
---
Bailey Wallace
Technical Support
Bailey joined the company in 2013 as a trainee technican and has since learnt to service and repair domestic sewing machines. He continues to work in our domestic workshop under the supervision of Stuart Wearden.
---
Lewis Aspden
Technical Support
Lewis joined the company in 2013 as a trainee technician and has since learnt to service and repair industrial sewing and embroidery machines, working closely with our team of industrial technicians. He continues to work in our industrial workshop.
---
Pepper Hobkirk
Company Mascot
Pepper the black Labrador is nearly 6 years old and is the company mascot. You can find pepper upstairs in the office where she likes to sleep and play. She loves to meet and greet our visitors and loves having her belly tickled!