Minshan
Minshan is inspired by a dazzling festival of light where colourful lanterns twinkled like pretty jewels and silk pandas played in the lush green bamboo. Also born from out love of animals especially the adorable Giant Panda and Red Panda.
From the profits of 'Minshan', Lewis & Irene will be donating to Act Now For Wildlife led by Chester Zoo who say, "Protecting Giant Pandas and Red Pandas from extinction in the wild simply means ensuring they have a home to live in. Without the forests these enigmatic animals will be lost in the wild forever". 100% of all donations are spent on conservation projects.
Available in 2 colours
Available in 2 colours
Available in Turquise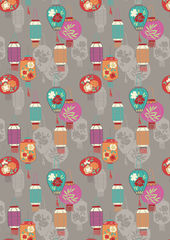 Available in Light Grey
LIMITED TIME ONLY - Approx 500g scrap bag filled with fabric off cuts and pieces. £5.00 each. WHILE STOCKS LAST!