Elna Sewing Machines
The Elna trademark has always symbolized quality, innovation and service and they are committed to bringing excellence to all their customers. Elna believe that to make sewing fun, the machines need to be: easy to use, versatile and modern.

As a result, Elna was the first to introduce special features like lightweight machines, automatic needle threader, heirloom stitches, expandability of stitch packages through the invention of interchangeable cams, cartridges, PRO Cards and EnVision Cards. In addition, Elna has always been famous for the quality of our stitches and the design of their machines.

We have a wide range of Elna Sewing Machines ranging from those for beginners to computerised quilting machines for those who are more experienced. All our Elna machines are available for FREE UK delivery. Order your Elna machine today - you won't be disapointed!

The Elna eXplore 220 is a mechanical sewing machine with 16 stitches & 4 step buttonhole. It's easy to operate, affordable and perfect for anyone learning to sew.
24 stitches including: Straight, Zigzag, Three-step zigzag, Stretch blind hem, Woven blind hem, Shell tuck, Box, Picot, 3 Decorative satin stitches and more...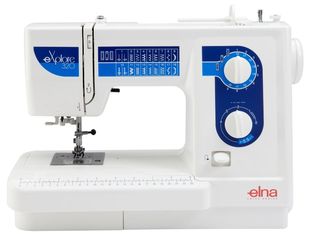 The Elna eXplore 320 sewing machine has 21 stitches and a 1 step buttonhole. An easy machine to use for anything from minor alterations to major new creations.
25 stitches, one-step buttonhole, stitch length up to 4 mm, stitch width up to 5mm, needle position variable between left and center.
The eXperience 520 is a versatile machine that can handle any type of fabric. It comes with 30 stitches and 6 one-step buttonhole.
50 built-in stitches including buttonholes, quilting, patchwork and fancy stitches, 3 one-step buttonholes: classic, jeans, etc.
The eXperience 580 has the power, precision and convenience you need to discover your creative potential.
This 170 built-in stitch machine offers top-of-the-line features like an Automatic Thread Cutter and Tension System, and 7-piece feed dog.