Makower | Sea Breeze
Traditional nautical scenic prints of yachts, beach huts and light houses, with pretty applique styled infill patterns. Coordinating designs of shells, anchors and seagulls in a red, white and blue palette compliment the scenic designs perfectly. A multi-spot and stripe are perfect for bindings and contrasting pieces in your project. The bunting panel completes this seasonal collection.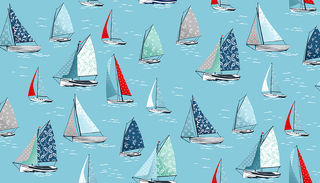 Patchwork Yachts on sky blue 100% cotton fabric by Makower.